Archive for November 1st, 2011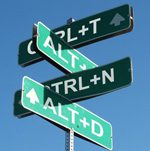 Its a known fact that keyboard shortcuts can improve your experience with Windows. They help you save time and work more efficiently. Everyone knows the basic copy and paste shortcuts but there is more to Windows that Ctrl+C & Ctrl+V.
Lets have a look at some simple windows keyboard shortcuts that are useful in everyday operations. Starting with some common shortcuts and moving on to the lesser known ones.
Win+L - Everyone working in a company should know this one. It locks you computer so that the password (if applicable) has to be entered to unlock it.
Win+M - Minimize all windows and show desktop
Win+Pause/Break - Show system properties. This is an extremely useful command if you work in a technical support.
Win+ArrowKeys - Allows you to resize, minimize and maximize windows.
Win+1,2,3 - Opens the programs in quicklaunch or those pinned to taskbar in Windows 7. Can also be used to switch to those programs.
Win+Alt+1,2,3 - If there are multiple windows of the same type this allows you to select the one you want from the jump list.
Win+B - This selects items in the system tray.
Win+T - Similar to Alt+Tab except shows the previews of windows (Similar to hovering mouse over icon). Press Space or Enter to select.
Win+Home - Maximise all windows
Alt+Esc - Similar to Alt+Tab except this does not have any overlay switches to windows in the order they were opened.
Ctrl+Esc - Substitute for the windows key to open start menu.
Alt+Space - Open windows system menu for the program.
Alt+Enter - View properties for selected item.
Shift+F10 - Shows the right click options for selected item.
Ctrl+Shift+N - Make new folder.
Win+G - Cycle between windows gadgets.
Win+X - Windows Mobility Center
Browser Shortcuts
Ctrl+W - Close a tab in browsers and many other programs.
Ctrl+T - Open a new tab.
Shift+Ctrl+T - Reopen a closed tab
F6 - Cycle different parts of the program (Useful to get to the address bar).
Shift+Ctrl+N - Google Chrome, start private browsing (for when you are looking at things you arent supposed to at work)